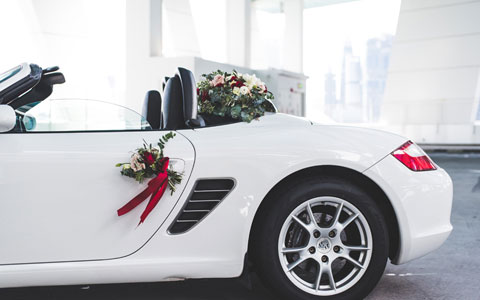 W
edding Transportation
It's the minor details that make your wedding day special. From the flower arrangements to the venue settings, every element of your big day comes together to create an event that you will never forget. There is one more thing to remember –
wedding transportation!
This is where we step in!
We undertake and provide unique transportation services on your big day! Our team of coordinators will handle all of the transportation hassles so you have one less thing to worry about on the most important day of your life. On your wedding day, choose a luxury sports cars or a limousine and make an impressive appearance that will be unforgettable to everyone. Our professional chauffeurs will undertake the transportation of your guests with privately owned vehicles and luxury vans to and from the hotels, the ceremony and reception venue, ensuring a carefree day for everyone.
We will guide you in the best possible way to choose the service that suits you best!
E
vent and Conference Transportation
Zeus Hellas
offers you the most complete, safe and beneficial transportation solutions to and from any large event in Greece. Whether you are planning to move a few or a large number of people, we offer professional support in organizing the transport for all kinds of groups. Whether you need shuttle bus, airport transfers or private van and luxury private vans for your business customers,
our fleet and partners are at your service 24/7.
Events are important to businesses, their clients and the community involved. We understand this and will make sure all transportation needs are met.
Zeus Hellas
will take care of the entire transportation management, so that you can devote your valuable time to your event.